Originally I was going to take pictures of the
master bathroom to share with you today.
However the toilet bowl cracked late
last night and the floor is now covered with towels!!!!
My husband said he heard
a weird noise while standing in the bathroom
but after he looked around he
couldn't figure out what the noise was.
Even Teddy was curious
and looked to see what the noise was.
So, looks like we will be shopping for a new toity!
In the meantime here are
a couple of pics of one side of the laundry room.
The  cabinet with doors was leftover
from the kitchen
renovation.
The resident handyman
added the shelves on the right
and topped it
all with crown molding.
---------
I shopped the house to
find things to fill the shelves….
this is what I came up with.
At one time I had
a collection
of antique scales on
the top of my kitchen cabinets…….
-----------
Please keep the people of
Harveyville Kansas in your prayers.
The nearby town
was hit by a tornado last night…..
several people were injured,two critically.
So incredibly sad…….
-----------
I'm joining the party at: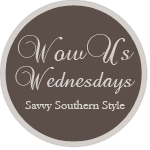 &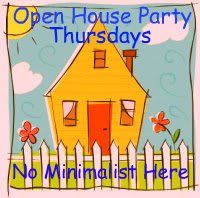 &