Hope you all had a wonderful Easter weekend?!?!?
Today I am sharing a little vignette
in the hall bathroom.
I have been looking for weeks for something
to hang over this little round table.
Originally I wanted
an oil painting but over the weekend
 I found this mirror at an
antique show for $27 and knew instantly
it would be just perfect!!!!
The little table is a find from an antique shop and
 I had Mr. Handyman
make a wood top for it.
-------
-------
The finish on the mirror
is so yummy…..
just the right amount of chippy-ness!
-------
-------
The silver spoon is from an estate sale….
it is actually part of
a salad set and has a matching fork!
I bought it on the last day of the sale so it
was half price and only $3!!!!
-------
-------
Hope you will consider following me on
Google Friends Connect or
with the new Linky follower option.
-------
Joining the party at: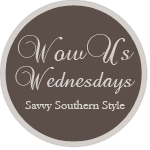 -------