I have had this chair for about….eight years I think?!?! Long enough that I can't remember where I bought it from originally. I have never really liked the finish on the chair but fine French antique chairs are a rarity around here. Originally the fabric was a beige damask and over the years it has had a few different looks. Then it was finally moved to the master bedroom where it has remained.
I finally decided to paint the chair last week……….
-------
Here is the before:
-------
For some reason this chair always looked better in the photos than it did in person! The finish was a shiny taupe color and just screamed cheap faux finish.
-------
Here is the after:
-------
Hope you will consider following me on Google Friends Connect or with the Linky follower option.
Joining the party at:
&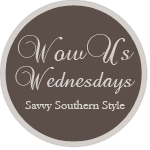 -------