e
I have always wanted a French confit bowl like this one.
This one can be yours for $239 which includes shipping.
It is actually a fabulous deal even with the broken handle, I have seen them for
much,much more!
e

e
However, there always seems to be something else I need more so
I have never spent the money for one.
Then the other day I was looking on Etsy for terra cotta
flower pots  and this popped up in the search.
e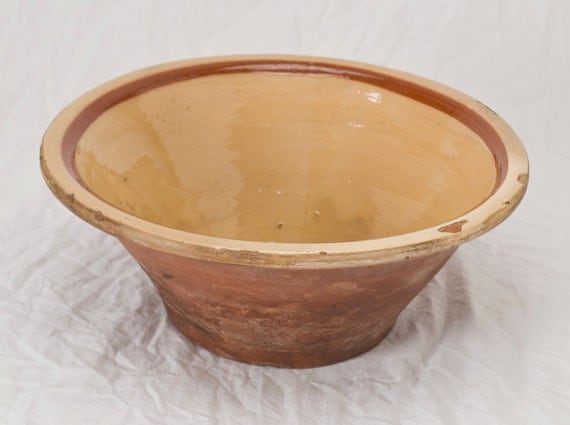 e
This bowl was $48 plus shipping and I just couldn't resist
it so I am now the proud owner!!!!
The seller has one more bowl that is similar if you need one like I did.
The shop is called Petunia's Place and they specialize in
mid century furniture, art, and one of a kind collectibles.
I am using my new bowl in the living room on the coffee table
with a live Orchid inside.
e
e
The history of the confit courtesy of D'Artagnan:
Smoking, curing and drying have been used to preserve food supplies since prehistoric times. Before eating seasonally became a trend, it was a necessity. Game meats were only available in season, and domesticated animals were slaughtered before winter came, to save on feed and to fill the larder. So a method to preserve meat before the days of refrigeration was a vital development in culinary history. Confit is a cooking term for a variety of foods, but most commonly meats, cooked and preserved in their own fat.
Confit is the past participle of the French verb confire, "to preserve." In this method, meats are cooked in fat for a long time, sometimes days, at a low temperature. This renders tough cuts, like duck legs, more tender and palatable. The meat that has been through this cooking process is also called confit, as in duck leg confit, or confit of goose.
In the days before vacuum packing, confit meats were placed in crockery pots or jars filled with duck fat, then covered with pork fat and stored in a cool cellar. This impenetrable top protected the confit throughout the long winter and on into the spring. In the southwest region of France, Gascony, you'll still find many small jars filled with confit stored in the cellars. Since the entire small container can be used at one time, the confit isn't exposed to the outside air for long and can't spoil.
Duck leg confit is a favorite of Gascons, and is a vital ingredient in the classic cassoulet from the region. Because it is so tender, duck confit can be shredded and served over salad, in stews or on bread. But confit can be made from any part of the bird. Legs, breasts, giblets and even foie gras can be salted and simmered, then preserved in fat.
 e
I love my new bowl and smile every time I walk into the room now!!!
Have a great weekend my friends!!!!
e